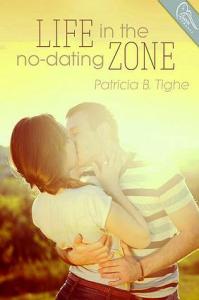 Another book on my summer reading list is Patricia Tighe's Life in the No-Dating Zone. I feel like LITNDZ will be a fun one because it seems to have lots of delicious drama, great dialogue and is set in Texas, which is like a whole other world for most of us Canucks!
Here's the official summary:
After surviving her parents' relationship drama when her older sister elopes, Claire Gardner vows not to date during high school. Now, three years later, Claire is thrust into new relationship drama–her two best friends have boyfriends. Which means Claire is spending more and more time alone. And she's more than a little peeved.
Enter Gray Langley. His year-long crush on Claire's friend Lindsey has made him desperate enough to ask Claire for help. Hesitant at first, Claire agrees–anything to get rid of Lindsey's current evil boyfriend. But as Claire and Gray plot together, an attraction develops, and now she must decide if being with Gray is worth the pain that will come from confronting her parents with the reasons for her vow.
Here's what peeps are saying:
Love YA? Then you will *adore* this book about Claire's vow to not date in HS, about her "helping out" a friend with a crush on a cute guy, with an Austen "Emma"-like twist. Sweet and fun.
The dialogue between the characters had me chuckling or cringing. I loved it. I found it realistic and well done.
A good YA book. Romance, awkward and funny moments. A happy read that will make you smile! I recommend it!
All three summer romances will be accompanying me to the cottage tomorrow; I can't wait to dive in!