Oh, I love me some snarky goodness! The next book (or books) on my summer romance reading list is the Snark & Circumstance series by Stephanie Wardrop. This is a series of delightful novellas that culminate in SNARK AND STAGE FRIGHT, "the gripping, heartwarming and funny conclusion to the series" (which I'm currently loving). But don't let the title fool you, despite all the "snark", there's still plenty of sweetness to go around…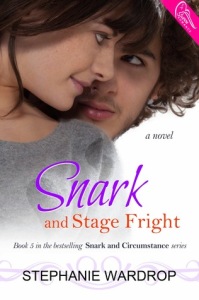 Here's the official summary:
Georgia Barrett learns the hard way that happily ever after isn't nearly as happy or as close to forever as Jane Austen would have us believe. Georgia's sharp tongue costs her the only guy she's ever really cared about: Michael Endicott.
Determined to move on, Georgia lands the lead role in the school's fall musical. But to survive on stage, she'll need to express herself without the protective shield of snark. She soon discovers being honest with others means being honest with herself, and the truth is; she's still in love with Michael.
But from the looks of Michael's new girlfriend, Georgia isn't the only one moving on. Apparently, some people are just better at it than others. And when Michael and his girlfriend join the cast of the fall musical, Georgia finds out that snark and stage fright are the least of her worries.
The series is a modern spin on Jane Austen, so JA fans will especially enjoy it.
Here's what a few folks are saying:
Stephanie Wardrop has a conversational, natural writing style that makes her a truly modern voice in YA. She's a seriously talented writer who had me from the first word of the first page. This book was full of so many amazing lines it's hard to choose a favourite.
I loved this book. I had read all of Wardrop's previous novellas, and it was just such a pleasure to sit down with 200 uninterrupted pages!
Wardrop has such an easy writing style that she effortlessly pulls you right into the story.
My favorite book in the Snark and Circumstance series, it's full of witty dialogue, endearing characters, and angsty drama that all build to a perfectly satisfying conclusion.
If your looking for some fun summer reading, start the SNARK series today!
xo