I'm so thrilled to be a part of the "Thrice Burned" blog tour! Out tomorrow (yay!). This is the second book in a stellar Young Adult mystery series featuring savvy sleuth, Portia Adams (who may or may not be the granddaughter of Sherlock Holmes and Irene Adler – you'll have to read the first book "Jewel of the Thames" to know for sure 😉 ).
Today author Angela Misri talks about relationships and romance in her novels and how your writing can take you to unexpected places … Leave a comment on her blog post and be entered to won a e-copy of Thrice Burned!
This seemed like an appropriate blog to talk about relationships and romance since it seems to come so easily to Alisha (at least in Kissing Frogs) and is more of a struggle for me in my writing.

Like Portia Adams, I am not great in social situations. I have a short-list of best friends whom I've had for decades, and a slightly longer list of acquaintances and am quite happy with that. Now I'm also a lot older than Portia, so she's just starting down that path of making friends and learning about relationships.
When I first started writing about my young Canadian detective, I intended her to be one half of a detective duo, directly emulating that impregnable relationship enjoyed by the first famous Baker Street residents – Holmes and Watson. Her other half was going to be Annie Coleson – a brash young reporter who would be the foil to Portia's more sedate and focused life. She would 'bring the fun' to the friendship and Portia would provide the balance. What I didn't expect was that in writing about Brian Dawes, whom I intended to be the Lestrade-type figure in my books, I found a more worthy partnership. The more I wrote about Brian, the more I found drawn to his interactions with Portia, and the kind of strength and loyalty that just ebbed out of him.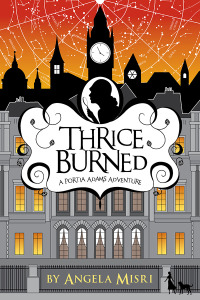 Before I knew it, I had written Annie out of the first book and replaced her with Brian – who was not going to be Portia's Watson at all, but a whole different archetype altogether – someone she would rely on and look to as an equal. By the time we get to Thrice Burned my readers will find (as I did in the writing of it) that Annie and Brian together will form the 'Watson' character. Unfortunately for Portia, they also discover each other as potential sweethearts. Just when Portia is starting to figure out her attraction to Brian, he turns his brown eyes towards the winsome Annie. Ah well, such is life!
Because Portia is such a focused character, and because the reader is following the stories through her eyes (rather than through the more sensitive Watson voice in the original canon) I struggle as a writer to bring emotion onto the page. I've been experimenting with writing Jewel of the Thames from Brian's point of view through Wattpad, and I have to say, it's a lot easier for me to do because he is better in tune with his emotions.
But I don't want you to worry too much about our girl detective – Gavin Whitaker steps into the crime scene with eyes set on Portia Adams. He is more like Holmes than even Portia is, analytical, brilliant, cold and calculating. But he is also the most challenging mind she has ever encountered and that is an attraction Portia can't fight.
I think there is a lot more emotion and love on the pages of a book like Kissing Frogs, but I swear to you, there is a lot going on behind closed doors at Baker Street! Now I just need to get better at opening that door for my readers and peeking in at the affairs within.