Hey guys!
I'm so excited to kick of my #authorlove series today! Each week will feature a different author Q&A, along with their latest book, so you can get to know more about all the amazing novelists out there. For my very first post in the series we have The Darkhouse by Barbara Radecki. The Darkhouse has been described as "…a young adult thriller unlike any other… Radecki's work developing Gemma's character through the first person narration is masterfully done…" Let's get to it!
So B, give us a snapshot of what The Darkhouse is about.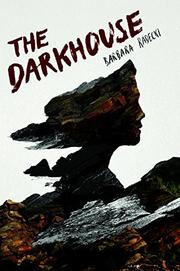 The Darkhouse is about a 15-year-old girl named Gemma, the only young person in a tiny community on a remote Maritime island, whose life unravels when she discovers the terrible truth about who she really is.
Fans of who/what will like this book?
The Darkhouse melds a few different genres—mystery, coming-of-age, the dark undertones and shocking discoveries of speculative fiction. Another definition I've come to love is that it's an original fairy tale for adults and young adults. The heroine basically walks into the mysterious woods alone and discovers that the world isn't the safe or predictable place she thought it was. To survive, she has to mine for resilience and courage she doesn't know she has.
What inspired you to write the book?
The idea for The Darkhouse came to me while I was weeding my garden one sultry summer day. I was working on another novel at the time, so I wasn't really searching for another story idea. But out of nowhere, I heard this young girl's voice in my head—and she told me the secret that lies at the heart of the story. And I knew I had to find out what happens to her by writing it.
Any thoughts on if you had to cast the movie? 
Coming from an acting background, I've thought about this a lot! I'd love to see a fearless young actress play Gemma, someone like Anna Paquin when she was a child in The Piano. I've also pictured Casey Affleck or Joaquin Phoenix as Jonah, and Emily Blunt or Michele Williams as Marlie.
Do you have any writing quirks?
Well, I do like to write with my feet up, say, lying on a couch or lounger. Somehow my body doesn't suffer so much from the hours at the computer if I switch up sitting at a table and reclining. Also, I get so many ideas or thoughts in the shower or as I'm falling asleep that I have to keep Post-it pads and pens in my bathroom and bedroom.
Can you tell us about the cover?
This is one of my favourite Darkhouse stories! When Cormorant/DCB acquired my book, I was also scheduled to appear at a few comic-cons—I have a small fan-base because I dubbed the English voice of Sailor Neptune in the original Sailor Moon series. My agent, Sam Hiyate, suggested I print up some postcards announcing the upcoming release so comic-con fans could look for the book when it came out. I needed some artwork for that postcard, and it was way too early for Cormorant to commission a cover design. My daughter, Stefanie Ayoub, is a professional designer and illustrator and I asked her if she would design something. She was amazing—taking careful notes about the story and Gemma's character (and, of course, she'd read a few drafts along the way). Then she created this incredibly evocative, textured image, which I used for the postcard. Later, when my editor was beginning his search for the cover designer, I suggested they consider Stefanie's artwork. Before he saw it, he was understandably sceptical—do you know how many authors have family or friends who've "designed a cover," only for them to be terrible or unusable?! But he was open to considering it, and when he saw it he was blown away. The cover you see on the book today is only a few tweaks from her original creation.
What are some of your favourite authors/books and why?
I'm a voracious reader and have been all my life. This is the hardest question to answer because I don't dote on one writer, but read so many different books that I feel it's unfair to land on a writer or book as my "favourite." The only exception to this rule is, in fact, my fairy tale collection—these are the only books I've read and re-read over the years. In general, I'm most drawn to evocative literary fiction with a strong story. Margaret Atwood, Barbara Gowdy, Toni Morrison, David Bergen, Richard Wagamese, Austen, Eliot, Tolstoy. Standouts for originality and emotional power after all these years are Their Eyes Were Watching God by Zora Neale Hurston, A Visit From the Goon Squad by Jennifer Egan, The Brief Wondrous Life of Oscar Wao by Juno Diaz, and The Outlander by Gil Adamson (not the British series). Oh, and I can't forget A Prayer for Owen Meany and Extremely Loud and Incredibly Close.
Any plans for future projects?
I'm writing my next book right now! Briefly, it's about a 16-year-old girl who gets a message in the middle of the night telling her she's the next messiah, and her first mission is to save the runaway sister she hates. But is she the next messiah, or is she just a messed-up kid from a dysfunctional home looking for love?
Thanks to Barbara for joining me today and make sure to grab a copy of her book if it sounds like something you'd be interested in. If you're an author who'd like to be featured on #authorlove, send me an email!
Happy Reading!
xoxo
Alisha