We have a lot of great stuff going on in honour of Save the Frogs Day!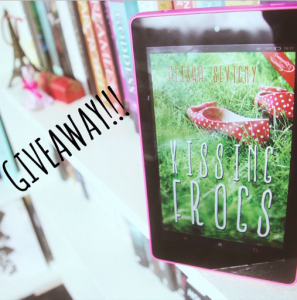 Over at my awesome US publishers Swoon Romance, there's a giveaway going on on Instagram where all you have to do is follow @swoonromance for a chance to win a free ebook of Kissing Frogs. Plus, for all you aspiring authors out there, it comes with the chance to get feedback on your own story pitch/query! The contest is open to US/Canada residents and to enter you must share the Instagram post, as well as comment below answering this question: If you had to kiss a frog for it to become your Prince Charming who would that Prince Charming be? The comp ends May 9th and there will be one winner!
Also, my amazing Canadian publishers have graciously reduced the price of Kissing Frogs on Kobo and iTunes to $4.99 (that's only the price of a latte!) in honour of today, so make sure to snag your copy. And say you're a 32-year-old male who maybe doesn't happen to read romances (no judging if you do!), buy one anyway and feel good that a portion of your purchase will be donated to Save the Frogs foundation.
Thanks everyone for taking part and helping to Save the Frogs!
xoxo
Alisha