Excerpt:
I really shouldn't. I should be going home. I need to stop this. Whatever it is. But his gaze has a gravitational effect, like the moon on the waves, pulling me toward him.
"I thought you wanted to go for a swim." My voice comes out as a whisper.
"I do," he says, reaching for and pulling me up against his chest, lifting up my chin with a finger. "But first I want to do something else."
"What's that?" I hear myself ask. Only it doesn't sound like me. The voice is low and throaty, and, dare I say it, seductive?
"This." His lips settle on to mine. Sensations overwhelm me, all of them highly pleasurable, but there's anxiety underneath.
He's playing you. He's good-looking. He's rich. He can have anyone he wants. You're so naïve. Why would he want a freckly little redhead with bruised shins and tree sap in her hair? Because he wants something from you.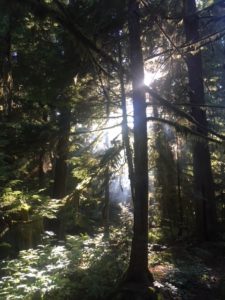 Summer Constellations is Toronto based author Alisha Sevigny's second young adult novel. Like Kissing Frogs, Summer Constellations is aimed directly at the hearts of young teen girls. This time Sevigny locates her novel in a less exotic location, a family run campground in Canada instead of the mountains of Panama. And, like Kissing Frogs, Sevigny again squeezes an environmental theme into her mostly romantic tale.
A looming financial crisis threatens the viability of the campground and drives the action of the story. Julia's single mother is worn out from the maintenance of the campground, and the bills are piling up. While the summer begins with excitement for Julia – her summertime crush is due any minute – her mood switches to anger when her mother announces the possibility of selling the campground. Sevigny excels at pacing and is not afraid to pack a lot of action into a few pages. In rapid succession, Julia learns of her mother's new plan, meets summertime boyfriend Dan, and guess what? – his new girlfriend Taylor and then runs off in a huff to the lakeshore where she promptly falls flat on her face in front of Nick Constantine.
In this moment, the only real flaw of the novel is exposed – and that is that we can smell the rest of the plot from here. From the moment Julia looks up and sees Eyes like midnight, jet-black hair and olive skin: he is the absolute definition of tall, dark and handsome, we know as surely as the stars twinkle in the sky on a warm summer's night that Julia and Nick will end up together. We share Julia's skepticism about Nick's intentions – how could we not? But we learn to marvel right along with Julia that this rich, good looking, sophisticated, kind, funny young man – did I mention he plays in a band? – might fall for a much younger, temper tantrum prone teenager.
But once we've given in to this inevitability, the rest of novel goes down like a cool summer treat. Julia and Nick's romance is sexy but not graphic, and most readers in the target demographic will be well satisfied with the many sensual, physical scenes.
Nick and his father are the brokers on the potential sale of the campground, adding a mysterious dimension to the plot. Is Nick romancing Julia to facilitate the sale? Will Nick dump her – like Dan did? Like Julia's father did? Compounding Julia's doubt is Nick's enthusiastic involvement in her efforts to save the campground from the developers, the same developershe works for. Meanwhile, Julia's little brother is fixated on a finding the treasure their grandfather once hinted at. Julia and Nick's romance heats up as the plot complications pile on, and the novel races to an exciting, satisfying conclusion.
Summer Constellations is fun, romantic and might even stimulate some debate about the relationship between development and the environment. Sevigny also delivers interesting characters that we care about and who have problems that are reasonably relatable. More than anything though, this is a classic, steamy summer romance that young teen girls will love.
Highly Recommended.
BUY A BOOK HERE! ALREADY HAVE A COPY? GIFT IT TO A FRIEND!
Charlotte Duggan is a teacher-librarian in Winnipeg, MB.