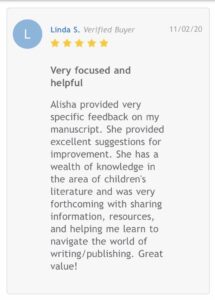 Looking for an honest and in-depth critique of your manuscript?
Need help writing a killer pitch or back cover blurb for your book?
As a literary agent for one of North America's leading boutique agencies, I substantively edited clients' works, transforming rough drafts into sellable prose, as well as wrote both fiction pitches and non-fiction proposals that resulted in book deals for many debut authors.
Whether your goal is to pursue an agent and traditional publishing deal or to self-publish, I can provide constructive feedback to help polish your novel and get the attention it deserves.
Substantive manuscript assessments generally include in-depth track changes throughout the entire manuscript as well as 2-3 pages of concise, direct commentary on various aspects of your manuscript (style, structure, and content, etc.) and some general suggestions on where you might want to go from here. The manuscript's strengths and weaknesses are identified, as well as its suitability for market based on current industry trends. A one hour consult via phone or the web to discuss feedback is also included. MS turnaround time is typically 2-3 weeks.
Please email to tell me more about your project and request a quote.
See Contact for details or email: alishasevignyatgmail.com
*Congratulations to my client P.H. Oliver on her book being a finalist for the Stephen Leacock Medal for Humour Award! THE GYNESAURS was the only self-published book to make the longlist of the top ten funniest books in the country!
Here's what Pat had to say about working with Wildflower Literary…
"Alisha combed through my 140,000 word manuscript offering many different strategies that I could employ to bring it down to  the recommended maximum word count  (under 100,000) for the genre in which it would be classified.  Readers have since told me that they were most impressed with the tightness and pace of the book, feeling that every line was worth reading.  There is no doubt in my mind that this high praise was due to Alisha's keen instinct for what a reader wants and needs in order to keep turning the page.  She pointed out plot and character inconsistencies that I had missed, even after much scrutiny and gently curtailed my penchant for overly verbose descriptions. She provides a thorough and discerning voice that will allow you to reconsider and/or validate your work from a fresh and knowledgeable perspective, always keeping the writer's delicate ego in mind.  A pleasure to work with from beginning to end."
What Clients are Saying…
Very focused and helpful! Alisha provided specific feedback on my manuscript. She provide excellent suggestions for improvement. She has a wealth of knowledge in the area of children's literature and was very forthcoming with sharing information, resources, and helping me learn to navigate the world of writing/publishing. Great value! 5 Stars – Linda S.
Working with Alisha was wonderful — from pitching to her via email to meeting in person to discuss her evaluation. Alisha made it easy to work together as she is always pleasant and genuinely cares about helping writers. I appreciate that she offered lots of encouragement and specific recommendations to help make my book the best it can be. – Marisa B.
I really benefited from the clear comments on my manuscript which Alisha provided me. They were concise, very helpful and improved my knowledge of the writing trade. Her comments certainly improved the quality my non-fiction novel. – James B.
Alisha was a great help in reviewing and in helping to refine my pitch for my novel before sending it off to a literary agent. – Rhesa S.